Linux on the Sharp 3040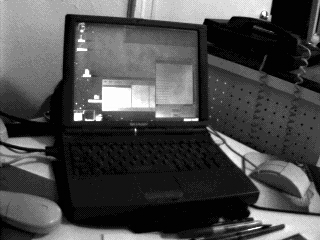 I've upgraded from Slackware 3.0 (circa Oct. '96) to Redhat-6.0 (8/13/99). I'm extremely pleased with the transition. I've installed 4 RH-6 systems in the last month or so and am very impressed with the distribution.
I bootstrapped the install procedure using the bootnet.img floppy and did an NFS install using my Etherlink-III (3C563B) network/modem card on my home thinnet LAN. The NFS server was my new K6-II/450 system also running RH-6. The install went very smoothly.
Hardware setup
Sharp PC-3040 w/ 56MB of RAM, 1GB hd
12.1 inch svga dual scan screen
2 free memory slots, user accessible, for up to 72MB (8+32+32).
external ps/2, serial, parallel, video, and IR ports.
docking port (probably unnecessary).
2 type II PCMCIA slots (or 1 type III).
very usable keyboard.
glidepoint touchpad pointing device (I HATE those nipple things).
built in 16bit soundblaster pro compatible audio with ports.
floppy drive can be swapped with a second battery.
intelligent suspend and powersaving modes.
fantastic chassis design (in my humble opinion).
Successes with Linux on the 3040
I'm using the 3Com Etherlink III ethernet/modem combo card. It works very well.
My New Media Bus Toaster SCSI (2nd generation) card works fine under Linux now, but is only properly recognized in the top slot. A newer version of the pcmcia package might fix this. I haven't tried to get it working with RH-6 yet.
Netatalk 1.4b2 also runs very well under Linux 2.0.27 (just make sure the appletalk module is loaded!). I had problems compiling netatalk under RH-6.
In general, I love it. This machine would be perfect if the audio was working so I didn't have to deal with the idiots at Sharp and 15bpp was supported. But if you know what you're about, this is a wonderful machine if you don't require blazing speed. the maximum RAM size is comfortable and the Hard disk (1GB) is generous.
Problems installing Linux on the 3040
When I first got the machine in Oct. '96 The RedHat-4.0 distribution had skrewed up boot floppies which refused to properly detect my PCMCIA hardware, so I used Slackware instead. As mentioned above, RedHat-6.0 installed like a dream (8/13/99)
XFree86 distributions prior to 3.3.4 do NOT support the Neomagic graphics controllers natively. When I first insalled linux on this system I had to purchase the Xinside commercial Xserver. RedHat released a non open-source Xserver binary for the neomagic chips a while ago and I'm now using that XFCom_Neomagic Xserver (check the RH FTP site) that I used under my old Slackware setup. It works fine under RH-6. I'll move to XFree86-3.3.4 as soon as I can cart an distribution home with me.
Be careful when installing Linux on your laptop - you may not want your distribution's installation program to try to detect your graphics hardware automatically during the install as you may damage your LCD. You have been warned.
Make sure you compile advanced power management into your kernel or you'll get really weird math errors when coming out of suspend modes that will force you to reboot. RH-6 has this built into the default kernel.
I tried recreating the suspend-to-disk partition that I blew away the first time I installed linux by creating a 60MB partition with ID "a0" at the end of the disk. Despite the fact that this seems to work with other Phonenix BIOS's on other (and similar) machines, my NoteBIOS still doesn't detect the partion.
Cons of the 3040
Sharp tech support SUCKS LIKE YOU WOULDN'T BELIEVE.
They only know about Win95 and can't tell you squat about the machine itself. I can't emphasize this enough. My floppy drive died. So I called good ol' 1-800-BESHARP and their automated phone system is now WORSE!! Obviously these idiots are not at all interested in dealing with their customers. I finally sent the machine in for service under warranty. They replaced the floppy drive and sent back a status sheet saying that all the hardware tested out fine. They did NOT fix the sound hardware which is reported broken by the BIOS. My battery, which had worked fine until the service, started acting flakey.

Believe it or not, Sharp contacted me regarding this comment. Apparently they're trying to improve, and I was impressed that they mailed me at all. Since my frustrations with them a year ago they've set up a support web site from which you can actually download drivers, repair disks, etc. We'll ignore the fact that they don't have the software available for my particular model....

Really annoying Phoenix BIOS that doesn't let you do ANY advanced setup
My audio module died a week after I got it and I haven't got it fixed yet. It MIGHT be that the damn BIOS deconfigured it. It's now almost 3 years later and I still can't make it work.
The weinerheads who designed the first Neomagic graphics chip didn't put enough memory on it to support 16 or 15 bit color at 800x600. The stupid chip is something like 15k short. Who designs a graphics controller with 896k of VRAM??
There is no CD-ROM module for the floppy bay
I would be happy to answer any questions I can about Linux on this machine. Just mail etgold at thaumaturgy dot net Note that I do not have Windows on this machine and don't use any Microsoft software at all, so I probably can't help you with those questions.